What is Viagra?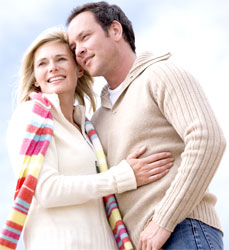 Viagra, the first ED drug, was patented in 1996, becoming the first pill to be approved for the treatment of erectile dysfunction. Although a great success worldwide, Viagra is available by prescription only that must be got from a qualified medical professional.
Viagra sildenafil pill works to smoothen out the physiological process of erection which involves the release of nitric oxide (NO) in the corpus cavernosum. This then activates the enzyme guanylate cyclase which results in increased levels of cyclic guanosine monophosphate (cGMP). This activity leads to smooth muscle relaxation in the corpus cavernosum and results in increased blood flow as well as an erection. Sildenafil is a potent and selective inhibitor which is responsible for the degradation of cGMP in the corpus cavernosum. Then, Viagra in conjunction with normal sexual stimulation leads to increased levels of cGMP in the corpus cavernosum, leading to an erection.
Why use Viagra for Impotence?
Erectile dysfunction is defined as the consistent inability to achieve or maintain an erection that is conducive to satisfactory sexual activity. The prevalence of ED increases with age. Viagra is an approved breakthrough oral therapy for the treatment of erectile dysfunction. When taken about an hour before anticipated sexual activity, Viagra works almost naturally with sexual stimulation. This drug is effective in almost 80-90% of erectile dysfunction cases that are associated with a broad range of physical or psychological medical conditions.
Viagra, the first in a new class of medications known as phosphodiesterase type 5 inhibitors, has the ability to improve blood flow to the penis. In clinical trials, Viagra has been demonstrated to restore sexual function in most patients.
In 21 clinical trials, which included men with mild, moderate or complete ED for an average of five years, with a broad range of conditions like high blood pressure, high cholesterol levels, diabetes and prostate surgery, Viagra was found to be effective in approximately 7 out of 10 men. Trial results for patients and partners were assessed using questionnaires.
Viagra was seen to be well tolerated by patients in the clinical trials with the most common side effects being headache, facial flushing and indigestion.
How does Viagra work?
When a drug has the ability to enhance blood flow to the penis, it can be implemented in at least three ways. It can be used to:
Enhance the amount of nitric oxide (NO) produced in the penis
Enhance the amount of cyclic guanosine monophosphate (cGMP) developed in the penis in response to the NO
Eliminate the phosphodiesterase 5 (PDE) in the penis so the cGMP develops instead of being decomposed by the PDE
Viagra works to rid the penis of PDE so the cGMP can develop there and have a greater impact on the artery walls. The larger the amount of cGMP, the greater will be the blood flow. The greater the blood flow the more strong will be the erection. Viagra uses this routine because of an interesting quirk of PDE, a special folded protein enzyme that accepts the cGMP and breaks it down.
Viagra consists of sildenafil citrate packaged as a pill. When the pill is ingested, sildenafil citrate flows throughout the body and impacts the PDE5 enzyme in the penis. Viagra remains in the bloodstream for about four hours, after which it is washed out of the blood by the liver and the kidneys. Most importantly, Viagra can work irrespective of the age or the severity of ED.
Precautions before taking Viagra
Viagra for male sexual health All precautions must be taken before and after taking the Viagra tablet. Viagra is known to work best and deliver optimum results when the person is sexually stimulated; it does not enhance sexual desire and neither is it a recreational pill. If Viagra is used, other than for medical purposes, it can prove to be highly unsafe. Viagra or other erectile dysfunction drugs should never be combined with each other as this might result in having adverse side effects or the medication may not work as intended. In addition, Viagra should not be taken if any nitrate medications are being taken in any form. For example, if a heart patient is prescribed medication to cure heart problems, taking Viagra may cause serious or fatal side effects like sudden, unsafe drop in blood pressure.
How much does Viagra cost?
Because of strict internet policies, we are not allowed to publish the prices of any prescription medication prior to an online consultation with one of our doctors. But we are equally confident that you will not find this medication cheaper elsewhere in the UK.
How is Viagra available to pharmacies?
Viagra is available as oral tablets in 25mg, 50mg and 100mg strengths on prescription. 50mg is the general recommended dose size. Therefore, when you buy Viagra 100mg tablet and split it into two 50mg doses would generally be cheaper because both 50mg and 100mg pills usually cost almost the same. Viagra is a film-coated tablet and should be stored in a cool, dry place.
Which other drugs affect Viagra?
Drug interactions can play a significant role in changing how the body metabolizes medicines and reacts to changes in important aspects such as blood pressure. A few of the drugs that can potentially interact with Viagra include:
Cimetidine
Ritonavir
Amlodipine
Alpha blockers
Erythromycin
Saquinavir
Antifungals
Nitrates
To minimize the risk of drug interactions with Viagra, it is mandatory to take the advice of your doctor about any drug interactions that may apply in your case.
Where can I get more Viagra related information?
The internet is generally the best source. But your pharmacist is also in a position to provide complete information related to Viagra.