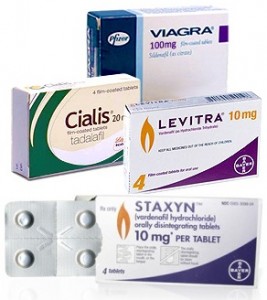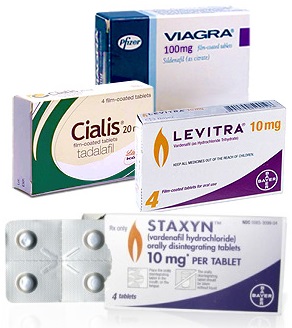 Erectile dysfunction is one of the most commonly experienced sexual problems amongst men all over the world. So far, there are only four medications which have been approved by the Food and Drug Administration and later by the MHRA for use in the UK. The four erectile dysfunction treatments are Cialis, Viagra, Levitra and Staxyn. Each one of these medications works by increasing the blood flow to your penis when a man is sexually aroused, in order to assist him in achieving an erection.
What Are the Differences Between Viagra, Cialis, Levitra and Staxyn?
All the four pills work in a similar fashion to help you achieve and sustain an erection when you are sexually aroused. However, there are subtle differences between the pills in terms of how long the pill works and how quickly it works. Levitra is effective for five hours, a litter longer than Viagra, which is effective for up to four hours.
The effect of Cialis kicks in a bit faster than that of Viagra and Levitra – in about 15 minutes. However, the pill is effective for as long as 36 hours, the only pill that is effective for so long. Staxyn works the fastest as it is a dissolvable pill, which you are to simply place on your tongue some 15 to 20 minutes before engaging in a sexual act. It also consists of the same ingredient as that of Levitra – vardenafil.
If One of These Drugs Isn't Effective for Erectile Dysfunction, Can I Try Another?
If you are taking one of the four medications, and find that it is not suitable or is ineffective, you can change the medication. Although it has been observed that changing the pill may be effective, but you should bear in mind that all four pills work in a similar fashion. Hence, there are fewer chances that a change of medication will be effective.
What Precautions Should I Take Before Taking One of These Drugs?
Although these four medications are effective treatments for erectile dysfunction, there are certain precautionary measures that you are required to take. Your doctor should be informed of the following before you start taking either of the pills:
If you are allergic to any other medication, including active ingredients of either of these pills
About any prescription or over the counter medications that you are currently taking for treating other medical conditions, including herbal and dietary supplements
If you are to go through a scheduled surgery, including dental surgery
If you are taking nitro-glycerine or nitrate in any form for treating chest pain, as combining Cialis, Levitra, Staxyn, or Viagra with these drugs can lead to severe low blood pressure
If you are taking alpha-blockers for blood pressure or prostate problems, as the combination of Cialis, Levitra, Staxyn, or Viagra with these drugs can also lead to severe low blood pressure
If you have not taken Levitra previously and you are being prescribed Staxyn
Who Should Not Take Cialis, Levitra, Staxyn or Viagra?
It is best if you avoid taking either of these pills if you have had a heart attack, stroke or life threatening arrhythmia within the last 6 months. It is advisable that you consult your doctor regarding the health conditions before you start taking the pills. You should also avoid taking this pill if you are suffering from uncontrolled high blood pressure or low blood pressure or if you experience chest pain during sexual act.
What Are the Side Effects of Cialis, Levitra, Staxyn and Viagra?
The common side effects of these ED medications are as listed below:
Headache
Upset stomach
Flushing
Changes in vision
Back pain
Nasal congestion
Heartburn
Warning
You should seek emergency medical attention if you experience the following symptoms:
Fainting
Rash
Chest pain
Painful erection
Prolonged erection
Itching or burning during urination
Sudden or decrease in your vision, which you can experience in one or both eyes
How Should These Drugs Be Stored?
These medications should be stored away from excess heat and moisture and is to be kept in its original container or out of reach of children. You should discard the medication if it has expired or is no longer needed.